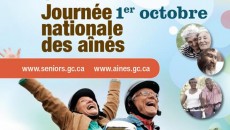 Chilliwack & District Seniors' Resources Society along with Sponsors and Exhibitors present:
October 1, 2015 9:00 am – 3:00 pm
Landing Sports Centre 45530 Spadina Avenue, Chilliwack, BC
This Seniors Fair and Exhibition will provide information, displays and demonstrations from the many organizations and businesses in Chilliwack who provide programs, services and products for seniors. Also of interest are organizations with volunteer and employment information.
Schedule of Events
9:00 am  Doors open: Exhibitors welcome you throughout the day!
9:15 am Health and Wellness: Nazlin Khamis, Pharmasave Health Centre Chilliwack
10:15 am Canada's Public Pension System – A Brief Overview:  Aileen Mittoni, Citizenship Services Specialist, Employment and Social Development Canada
11:00 am Keynote – What Matters to BC Seniors Today: Isobel Mackenzie, BC Seniors Advocate
1:00 pm Tea Dance with Sweetwater
There is no admission for seniors. Guests are encouraged to bring a canned food donation for The Full Cupboard.
Door Prizes will be drawn throughout the day and refreshments available by donation.
Volunteers are need for this event.
Please contact Brenda Leiren  at:  [email protected]
We are also looking for 6 Volunteers for our Senior Awareness Event Nov. 7th, 2015, more information coming soon on this event!
Also tickets for our Seniors Awareness and Abuse forum will be on sale at our booth during this event.  Tickets are $10 each.