Innovations in Patient Care – The UBC Pharmacists Clinic
When was the last time you got an hour with a health care professional? If you take medications and have questions or concerns, keep reading.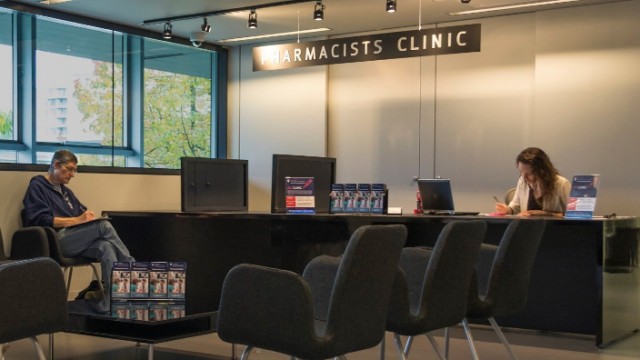 In 2013 the Faculty of Pharmaceutical Sciences at UBC opened the Pharmacists Clinic – Canada's first university-based, licensed, pharmacist-led, patient care clinic. The Pharmacists Clinic is not a typical pharmacy. It does not sell products or offer prescription-filling services. It is dedicated to making the clinical expertise of pharmacists available to meet the information and consultation needs of people taking medication. Located at the UBC Vancouver campus, the Pharmacists Clinic is tapped into the latest evidence, research and care models and focused on helping people get optimal drug therapy results.
The Clinic's pharmacists work in respectful collaboration with you, your physicians and your community-based pharmacist. Services are provided in-person or by telephone at no cost to you. The BC Ministry of Health (PharmaCare) pays the Clinic directly for some services and the Faculty funds the rest.
As a model of how pharmacists will practice in the future, the Pharmacists Clinic is also a teaching site for students and for pharmacists wanting to refresh their skills.
People who may benefit from an appointment at the Pharmacists Clinic are:
Wanting answers to questions about medications, natural health products and supplements
Taking multiple medications
Living with more than 1 health condition
Not getting the intended results from their medications
Concerned about adverse reactions, allergies or drug sensitivities
Having difficulty sorting out and taking their medications at home
Concerned about advancing age, reduced liver or kidney function, or Recently discharged from hospital
If you would like to book an appointment (either in-person or by telephone) for yourself or a loved one at the Pharmacists Clinic, please call 604-827-2584.
More information on the Pharmacists Clinic and booking an appointment is available at: http://pharmsci.ubc.ca/pharmacists-clinic