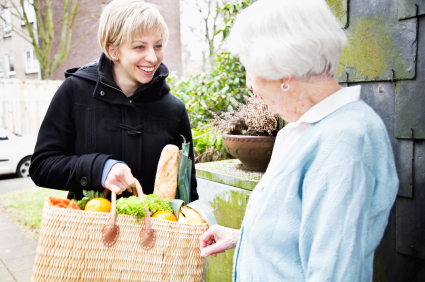 They care for siblings, parents or grandparents, and many of them are too young to have a driver's licence or vote. They are called Young Carers, and they are vital to the health and well-being of their "patients". But sometimes they, themselves, need help.
Recognition of their contribution in filling ever-growing home care needs has been slow to come, but that is slowly changing in Canada as well as in Australia and New Zealand. Canada is ten years behind the United States in engaging in this issue, with the United Kingdom and The Netherlands 15 years ahead of us in providing support for these young people.   They could be assisting another family member, or on their own; they might be taking care of younger brothers or sisters without parental support; or providing care for someone with a disability; or administering medications to an ailing elder. The range is as wide as the need.
Interesting, but not surprising, several of the adults now working to provide support for these young people, were caregivers themselves when they were teenagers. Their insight into the needs is based on lived experience and stress that a significant 'plus' is the confidence and self-reliance this engenders. At the same time, they recognize the enormous strains and difficulties faced by these young people while they contend with their own challenges – at school and in their communities. How can they keep up their education, participate in activities with their peers, when their opportunities to live a "normal" life are constrained by their responsibilities at home?
In 2013 the Action Canada Foundation released a report on their situation, showing that young carers are found in every classroom in Canada, but are seldom recognized as such by their teachers and other sources of support. Without support, the young carers' education, health and social aspects of their livelihood can be heavily impacted throughout their lives. The report stressed the need for increased awareness and a multi-sector effort to provide whatever is needed for these young people. A high school survey included in the report showed that in Canada 12% of youth between the ages of 12 and 17 self-identified as Young Carers. However, research from other countries suggests that the numbers are likely much higher. Some do not want to appear "different" from their peers, and are reluctant to self-identify. Some youngsters who have grown up with an older sibling with a disability, for example, consider their involvement in the care of that person to be "normal".
The first organization in British Columbia to formally offer programs specifically designed to try to fill the needs of young carers was in Cowichan Valley – following the one in the Niagara Region, which was the first in Canada. The Cowichan program started as a three-year project in January 2010 under the auspices of Cowichan Family Caregivers Support Society and was known as Youth Caregivers Project. In October 2012 it underwent a name change and became an ongoing program. As the website explains, the main goal is to involve young people directly in helping to give direction to the program by implementing effective ways to reach and support others like themselves, as well as to develop an accessible network of support. It also assists other communities in the province to establish their own programs. Their website: www.cowichanvalleyyoungcarers.com provides a wealth of information, and speaks directly to those who are caregivers, but may be reluctant to admit that they need help.
When Larry Winter, who lives in Comox – a two and-a-half hour drive south on Vancouver Island – heard about the Cowichan program, he knew that was his next project. He, himself, had been a caregiver from the age of 13, taking care of his two younger sisters. Recently retired from a 32-year career in the Royal Canadian Air Force (RCAF), he was already a volunteer member of the Comox Valley Community Justice Centre's Restorative Justice Program. He felt this was the ideal organization to initiate a program similar to that in Cowichan, for Comox youth. With his own experience as a guide, Larry recognized that these young people do not necessarily consider themselves disadvantaged. They are learning to take responsibility, and take pride in their sense of independence and self-worth. While they might need support to help them deal with their specific needs, or the needs of those they are caring for, they still are adamant about protecting their privacy and have earned the recognition that they are doing a good job.
However, it can be enormously difficult to cope with care-giving demands and still have some time to "be kids". Larry Winter reports that many young people in this situation are doing remarkably well, because they are resilient and have support from family, peers, educators and community service providers. But if these supports are lacking, the stress is doubly hard on them.
Larry usually works with these young people on a one-to-one basis. He could be approached by an individual, or names could be referred to him via neighbours, school counsellors, front-line workers or family members. Whatever kind of help they need remains strictly between the two of them. In Larry's view, his job is to connect them with whatever support they require, and then he bows out. In the five years he has been running the program, he has mentored and assisted more than 80 young carers. Larry also hopes that a bi-monthly drop-in session will gradually evolve in the area, as the youth become more comfortable with self-identifying, and find value in getting acquainted with others in a similar situation. More information is available on the website: www.commoxvalleyyouthascaregivers.or or by calling Larry Winter at 250-334-8108.
The other two Canadian programs are in Ontario. The first was the Young Carers Initiative (YCI), a non-profit agency created in 2003 as a special project of the Alzheimer's Society of the Niagara Region (ASNR). Now known as the Powerhouse Project, it is active in the Haldimand-Norfolk Region and Niagara Regions. As Executive Director Michelle Lewis explains, during home visits to clients and their caregivers, the ASNR noticed that many children and youth were taking on caregiving roles to help the family, and many of them were also dealing with their own stress and anxiety. Not only are they providing actual physical and emotional support to family members, but might also be the ones to pay the bills, interpret for parents new to the country, and help younger siblings with homework. One of the major efforts of the Power Project is to connect young carers to whatever supportive services they need, as well as offering social, recreation and educational programs to help foster resilience, self- esteem and life skills.
As Lewis notes, they need age appropriate information about the illness or disability they are dealing with, recognition of how important they are to their families, and – like older caregivers – it is vital that they have a break from their responsibilities from time to time. Counselling is part of the mix, as well as recreational and social activities, and the opportunity to meet and enjoy programs with other carers in similar situations.
For more information, check their website: http://www.powerhouseproject.ca   The Niagara Centre is located in St. Catharines: 905-397-4201, or email [email protected] or [email protected]
The Haldimand-Norfolk Centre is in the Haldimand Abilities Centre in Hagersville: 905-768-4488 or email: [email protected] or [email protected]
Dena Maule, Executive Director of Young Carers of Toronto Hospice relates that their project came about in a similar way; when visiting palliative care patients, workers realized that many care-givers were young people. In 2008, she began working to adapt the YCI model to the urban setting, with particular focus on their children's programs. In 2009 it became the first such project in the country. Among the tools developed by The Young Carers program is a specially designed "Tool Kit" that will help other organizations replicate the program in other communities, and was supported through contributions from Canada's Social Development Partnerships Program. The "kit" is a turnkey approach to enabling organizations to adopt and adapt the model for use with young carers in their own communities. Contents include detailed curriculums, policies, procedures, job descriptions, and formats for all related forms and outreach materials. The goal is to support others to provide educational, recreational and leadership programs, applicable to different communities.
"An important source of ongoing information is Jennie Frank, head of the Children's Society of the U.K. They are so far ahead of us, the U.K. even has a Young Carers' Bill of Rights" said Maule.
Currently Maule and her staff are working on developing a provincial initiative to foster similar programs throughout Ontario. Their website offers an insight into the many programs and events they provide. These have included regular events, drop-in nights and special activities offered at Wilkinson Public School, Holland Bloorview Kids Rehabilitation Hospital, The Geneva Center , and others, and include group activities, arts, sports, field trips, help with homework, March Break Camp and many more. Through these activities, the young people realize they are not alone. Many are the children of new Canadians, and are the ones to help parents understand legal or medical issues and to translate government forms. At any one time there are 150 – 200 young carers registered for different programs. Older carers mentor younger ones, empowering both. Support for these young people also means better outcomes for the adults under their care.
The two-week Summer Camp is a highlight. The first week provides leadership training for 14 – 17 year olds and during the second week they are the leaders and mentors for the younger children. In fact,  many mentor younger children all year long, forming important bonds for both. Feedback from families has been positive. Although the activities are child-centred, the benefits provide substantial support to the entire family. In 2012, the Young Carers Program was awarded the Toronto Community Foundation's Vital Youth Award.
Contact: http://www.ycptoronto.com/young-carer.html and follow the links for information on a variety of services: or call 416-364-1666, ext. 245, [email protected] or 416-364-1666, ext. 246; [email protected] 
So far, all the Canadian organizations are funded by donations, both individual and corporate, and grants. Their staffs are small, occasionally augmented by interns or volunteers. In the U.K. – along with donations – funding is received from both local and central governments, and legislation exists specifically designed to support Young Carers in a family focussed approach to care. School boards have developed a card system that helps them facilitate a flexible approach, so that these youngsters can manage the multiple demands of their roles as both family caregiver and student.