Information updated August 20, 2015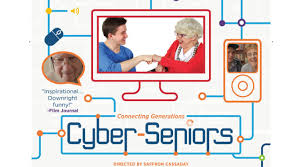 CARP Halton Chapter & Silver Sherpa Inc. cordially invite you & your family
to attend a FREE entertaining and informational film!
"CYBER-SENIORS"
A documentary and social impact campaign connecting youth and seniors
through technology
Silver Sherpa Inc. is a life transitions company offering professional planning, coordination and navigation services to seniors and their families. Their trusted advisors bring order out of turmoil and simplify those important and sometimes difficult life transitions due to health issues or loss of a partner.
Part of Silver Sherpa's core philosophy is to promote intergenerational programs and to give back to the communities where they do business. That is why the Company President Susan Hyatt made the decision to work with Cyber Seniors and to participate in "connecting generations" campaigns connecting youth and seniors through technology. It is also the reason Silver Sherpa approached CARP Halton Chapter with the offer to co-sponsor a special showing of Cyber- Seniors in Halton.
CARP Halton Chapter is pleased to co-sponsor this event with Silver Sherpa as we fully recognize the synergy with our Chapter's Vision & Mission Statement:
Vision: A society in which everyone can live active, independent, purposeful lives as they age.
Mission: CARP is committed to enhancing the quality of life for all Canadians as we age.
DATE: Sunday October 4, 2015
TIME: 1:30 PM – 3:30 PM
LOCATION: Queen Elizabeth Community Centre, 2302 Bridge Rd., Oakville, ON L6L 2G6, The Rehearsal Hall
Sign-in gift available for the first 200 people. Be sure to also be on hand for our prize draw immediately after the show ends.
Following the show, young adults from local Rotaract Clubs will be on hand to demonstrate technology examples show-cased in the film. And…bring your portable devices with you if you have some quick questions you'd like answers to.
For more substantive assistance with those portable devices, we will also be announcing some Tech Tutorials to be held at different dates and locations. The Rotaract group will be on hand to further assist you.
ABOUT THE FILM
Directed by Toronto's Saffron Cassaday, this humorous and heart-warming feature documentary follows the story of a pioneering group of cyber-seniors as they discover the wonders of the world-wide-web with the help of teenage mentors.
"Cyber-Seniors is a powerful example of the opportunities that emerge when generational gaps are bridged, and when new ways of connecting are explored", says Cyber-Seniors director Saffron Cassaday.
To view the trailer and for more information, visit: www.cyberseniorsdocumentary.com
Noted as a "Must See" by Huffington Post
Has won numerous film festival awards
Has had lots of showings throughout the US as well as some in various parts of Canada
Described as "inspirational and funny" in the extensive media coverage it has received.
Questions? Call Tom Carrothers 905-319-7345 or Email [email protected]