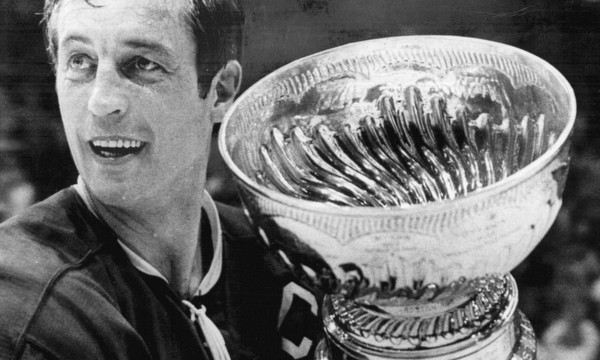 Like thousands of Canadians – and not only hockey fans – I was saddened to learn of the death of Jean Beliveau – not only a great competitor but a gentleman of the highest order. In addition, he played 18 full seasons and won 10 Stanley Cups with my all-time favourite hockey team, Les Canadiens.   As a Montrealer – okay, former Montrealer – I've been a fan for all my life – at least since I became aware that such a thing as hockey existed.
I admit to a momentary lapse. Once, when I was in grade three or four, one of my classmates extolled the virtues of Canadiens' goalie, George Hainsworth. In order to be contrary I immediately countered with Bill Beveridge , goalie for the Montreal Maroons who had just won the Vezina Trophy. However, neither he nor I could prevent what happened next: The Maroons, having been established in 1924 couldn't maintain the team in the middle of the depression, and in 1938 the Montreal Forum became the home of the sole remaining team: les Canadiens. My favourite player, Toe Blake, switched to les Canadiens. So did I.
My own lack of hockey ability in no way prevents me from coaching from the television sidelines. Way back in the days when we all skated on home-made ice on outdoor rinks (and warmed our freezing feet at pot-bellied stoves inside the changing hut) I once appropriate one of my brother's beat-up pucks, and at the local rink, announced I was going to join the hockey players buzzing around the lumpy surface. After one foray up the ice, lasting approximately four minutes, I realized three things: the puck wouldn't stay on my stick unless I glued it, which I suspected wasn't legal; only being able to turn left limited my range of forward motion; and passing the puck to a winger was an insurmountable challenge as I had no idea where he or she was. So now, even while castigating My Team for errors which are plainly visible on the television screen, I realize the incredible skill that goes into every move, pass, check, and the uncanny ability required to corral that little piece of rubber and bend it to one's will, while the opposing team is doing their utmost to take it away and do precisely the same thing, to their advantage.
Growing up in the days of Toe Blake, Elmer Lach, "Rocket" Richard, Henri Richard, "Boom Boom" Geoffrion, Doug Harvey, then Ken Dryden and Jean Belliveau, it was the best of all hockey worlds. It might not have been the healthiest. In those days, if you sat high up in the Forum, by the third period the yellow pall of smoke was so thick, spectators could barely see the ice. It's a wonder the players could find the puck.
Another ice-level occurrence was the manner in which fans exhibited their criticism of a bad call by the referee or a bad play by the home team: they would pitch galoshes and rubbers onto the ice. I constantly worried about how those folks would get home in the snow with one galosh. Did they all gather at ice level after the game to reclaim their footwear? Did some wind up having to hop home through the snow with one size ten and one size twelve that would keep falling off? Did some people actually collect cast-off galoshes and bring them to the game just so they could throw them on the ice? . Luckily, this practice has gone out of style, as has tossing chairs, dead fish, lobsters and toy rats.
Les Canadiens were also a source of income for me.  When I was about ten I discovered a way to increase my income. I had a standing bet with my father: every time "my" team won I got ten cents, plus the spread. If the score was 4 – 1, my take was thirteen cents. If les Canadiens lost, I simply didn't get anything. As they rarely lost, this was almost what one could call "money in the bank". In addition, this was my introduction to "gambling". However, even as a ten-year old, I realized that the only one actually gambling was my Dad; and from then on I would only bet on sure things.
Hockey has had its good years as well as tough times since the days of the Original Six. But there are still great teams, great plays, great players to motivate kids who play, as well as kids who watch and wonder. And with the tributes they've seen to Jean Belliveau, they realize that they too can be inspired to be the kind of human being that deserves admiration not only on the ice, but throughout their entire lives.