Don't forget this Thursday – wine and appatisers 5:00 pm at Ross Place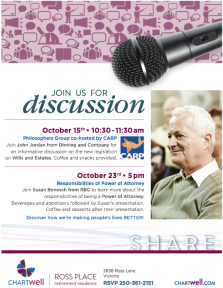 October 23rd 5pm
Responsibilities of Power of Attorney
Join Susan Benesch from RBC to learn more about the responsibilities of being a Power of Attorney. Beverages and appetizers followed by Susans presentation. Coffee and desserts after their presentation.
Discover how were making peoples lives BETTER!
Ross Place, 2638 Ross Lane near Douglas and Hillside