Information posted August 26, 2015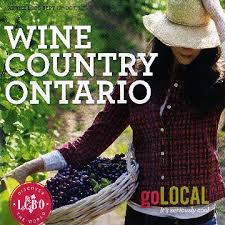 Fall is almost here and that means its time for our monthly Community Meetings to begin.
But first we would like to thank everyone who participated in our recent surveys.From your replies you expressed a desire for more light hearted presentations. You also told us about the many serious issues facing seniors and we willintersperse our meetingsthroughout the year with speakers who will address these issues.
With that in mind and inkeeping with the time of year we think you will really enjoy our September presentations.
You are therefore invited to join us for our first community meeting of the 2014/15 season as we feature a Fall Special:
"Discover the Quality in Ontario Wine Country"
Wine Countryis in our backyard and is one of the jewels of Ontario tourism with Fall being one of the best times to enjoy it. Our speaker will have all the information you need and may even point out things you did not know.
You will also have the opportunity to sign up for a tour offered by Chapter Partner and one of our sponsors for this meeting, Canadian Christian Tours.They have planned a tour of the Niagara Region specially for us. They will have all of the details and will be ready to go if sufficient numbers are interested.
So please plan to join us at either Milton or Burlington and help us get our new season off to a good start.
Our Milton meeting will be held on WednesdaySeptember 10that the Seniors Activity Centre, 500 Childs Drive, Milton.
Our Burlington meeting will be held on TuesdaySeptember 23rdat the Seniors Centre, 2285 New Street, Burlington.
Please be aware that if room capacity limits are reached we may have to restrict entrance in order to comply with building safety code regulations. Typically there is more space available at Milton.
Doors will open at both locations at 6.30pm. The program will begin at 7.00pm and end at about 9.00pm. Coffee and tea will be available.
Both evenings will begin with a short welcoming address from our Chairperson, Tom Carrothers. Tom will also provide a brief update on your CARP Halton Chapter and CARP National activities.
This will be followed by our featured presentation with a speakerfrom the Wine Council of Ontario. More details will be added in this articleas soon aswe have them.
As usual we have a number of sponsors for both meetings. We will be very pleased to welcome them and to thank them for their support. They will all have tables where you will be able to chat with their representatives and pick up additional information.
There will be a break at a convenient pointduring thepresentation which will allow time to socialize with fellow members and to spend more time visiting our sponsors.
Sponsorsfor both our Milton and Burlington meetings:
ListenUP Canada: Your CARP recommended hearing aid provideroffering significant benefits for Carp Members.
Shoppers Home Health Care Burlington: As part of Canada's leading retailer of home healthcare equipment and supplies, Shoppers Home Health Care in Burlington helps Canadians every day to lead healthier, independent lifestyles.
Canadian Christian Tours: Canadian Christian Tours organizes day trips, multi-day trips, and international trips. In addition, CC Tours isa full travel agency, with the ability to book flights, all-inclusive holidays, cruises, hotels, transportation.
Both meetings will conclude with a few closing remarks from Tom and our 50/50 draw. We encourage you to support this draw as proceeds help defray the costs of putting on our meetings.
Our meetings are FREE. Please support your Chapter. We look forward to welcoming all members and their friends.