Information posted August 12, 2014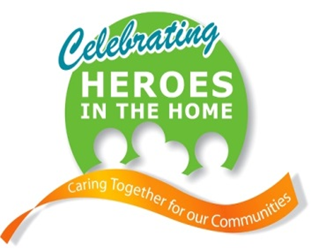 We all know someone who is a Hero. They could be a neighbour who shovels the driveway for an elderly parent, a friend who tirelessly cares for a medically complex child or a nurse who goes the extra mile for a spouse.
Say thank you to a Hero by submitting their name for recognition at the 2014 Heroes in the Home Awards. This is a wonderful way for you to show your appreciation and celebrate with the family member, friend, community volunteer, personal support worker, care coordinator, nurse, therapist or other health professional who has made a difference in your life, the life of a loved one or in the community.
Since 2010, the Mississauga Halton CCAC has honoured 285 caregiving heroes throughout South Etobicoke, Mississauga, Oakville, Halton Hills and Milton. Last year, 110 more "heroes" from across the Mississauga Halton region were celebrated at three special ceremonies.
"We know there are many caregiving heroes in our community. While they typically don't consider themselves heroes, caregivers make a significant and meaningful difference in the lives of people of all ages," says Caroline Brereton, CEO, Mississauga Halton CCAC.
The Heroes in the Home Awards recognize family members, friends, neighbours, co-workers, community volunteers, personal support workers, care coordinators, nurses, therapists, or other health professionals who have made a difference in your life, the life of a loved one or in the community.
The 2014 Heroes in the Home Awards will take place:
October 15 – in Milton at the Teatro Conference Centre
October 21 – in Mississauga at the Mississauga Convention Centre
October 23 – in Oakville at the Oakville Conference Centre
You can say thank you to as many individuals as you like by completing the submissionform and mailing or faxing it to:
Mississauga Halton Community Care Access Centre
Attn: Heroes in the Home Submissions
401 The West Mall, Suite 1001
Etobicoke, Ontario
M9C 5J5
Fax: 416 636-0876. Deadline for submissions is September 17, 2014
For more information and for a copy of the submission form please click here.
You can also contact them by email:[email protected]
or visit their website: www.heroesinthehomemh.com