Information posted July 1, 2014
The following article can be found on our main CARP website: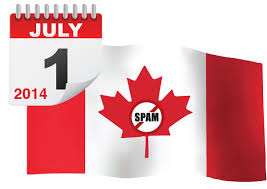 "Spam" alsoknown as junkemailor unsolicited bulkemail(UBE), arenearly identical electronic messages sent to numerous recipients byemail. Clicking on links inspam emailmay send users to fraudulent web sites or sites that are hosting viruses.
The Government of Canada has instituted new anti-spam legislation (CASL) that requires companies and organizations that communicate using email messages, to obtain explicit permission from the recipient in order to cut down on unwanted and malicious email.
The new legislation comes into effect on July 1st, 2014 and CARP has recently sent out a notice to our members currently usingemail, informing them of the new regulations and requesting their permission to continue to send important electronic communications to them.
The collection of permission will be part of our new membership recruitment and membership renewal process and will continue over the next many months.
As a CARP member, we value your support of our mission to improve the lives of Canadians as we age. Our best research shows that over 70% of our members are now connected to the internet and are comfortable using email. That number should continue to increase over the next decade, or until something new comes along.
CARP endeavours to share important information with our membership on the issues important to you, including the maintenance of a fair and accessible health care system, the security of our pension plans, the rights and dignity of Canadians as we age, freedom from abuse, neglect, discrimination, fraud and stereotyping.
Only by maintaining this important communications link with our members can we effectively maintain our unique position to keep our political leaders and decision makers on their toes and on the right side of issues affecting the lives of Canadians as we age.
Electronic communication is the means through which CARP can best talk to, and hear from our members. It is fast, efficient, environmentally sound and cost effective.
Rest assured that CARP remains committed to maintaining your privacy and we do not share, nor sell our member information with third parties.
You can help us with CASL compliance by sending an email with the word YES, to [email protected].
We ask that all CARP members do opt-in, asap. At any time, members can easily unsubscribe from unwanted electronic newsletters sent by our Advocacy team, from your local CARP Chapters or from our CARP Benefit providers.