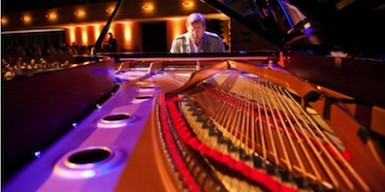 For Immediate Release
IDEA CITY ANNOUNCES FIRST ANNOUNCES FREE LIVE WEBCAST FOR 15th ANNIVERSARY CONFERENCE JUNE 18, 19 and 20th, 2014
Watch the entire 15th annual conference live anywhere, everywhere FREE
starting at 8am ET/5am PT, Wednesday, June 18, 2014
Click www.ideacityonline.com
Moses Znaimer, Executive Producer and Host of ideacity,has announced that on the occasion of the 15th anniversary of "Canada's Meeting of The Minds", he will be offering audiences worldwide the opportunity to watch the entire 3-day conference streamed live from Toronto's spectacular Koerner Hall absolutely free starting at 8am ET/5pm PT, Wednesday, June 18.
The 15th annual ideacity conference will take place June 18, 19, and 20. Over the 3 days, viewers at home, at work, on their mobile device, will have the opportunity to watch 50 Talks by the brightest and the best, together with their biggest ideas.
The webcast will be hosted by The New AM 740 – Zoomer Radio's Dale Goldhawk and Digital Media Specialist Ramon Pringle and include specialguest interviews, speaker profiles, and behind-the-scenes action.
Watch a preview clip here: http://www.ideacityonline.com/ideacity-2014/webcast/
This year's ideacity brings together another luminous collection of thinkers and doers in exceptional "pods" including:
· DNA: Resurrection vs Deconstruction
With Hendrik Poinar on the possibilities of cloning from famous dead people; Dr. Michael Zuk DDS, the Alberta dentist who bought John Lennon's tooth, and Austrian Molecular Geneticist Josef Penninger on "immaculate conception" or genetic trickery
· Radical Longevity
With synthetic biology pioneer Dr. Andrew Hessel, Dr. Michael Fossel on "resetting" DNA to reverse aging, Tanya Jones, COO of the SENS Foundation, on creating organ banks of replacement parts, and Janette and Alan Murray, the 60+ Australian couple who ran a marathon a day for a year
· Climate Change: Alarmists vs Skeptics
With photographer Edward Burtynsky who is concerned about how we are ravaging our landscape, the UK's Lord Christopher Monckton on why global warming is a hoax, and "rational optimist" Matt Ridley, who argues that we're worrying needlessly

· Civil Rights
With lawyer Alan Young, founder of the Innocence Project to fight wrongful convictions, California-based cannabis activist Steve DeAngelo founder of the landmark medical cannabis dispensary Harborside Health Center in Oakland, California, marijuana activist Jodie Emery with an update on her husband Marc Emery's return from incarceration; and Irwin Cotler, MP, former Minister of Justice and world-renowned human rights crusader
· Sports & Adventure
With best-selling author Rasmus Ankersen on the secrets of high performance athletes, Stephen Koch pioneer of snowboard mountaineering, Jean-Guy Sauriol, the oldest person to row solo across the Atlantic, and Laura Dekker, who, at 15 became the youngest person to circumnavigate the globe solo
· The World of Animals
With Francoise Malby-Anthony, widow of "elephant whisperer" Lawrence Anthony, Dr. Dietland Muller-Schwarze on the life and impact of beavers; Dr. Michelle La Rue announcing a new discovery about Emperor penguins, and journalist/author Peter Laufer on "the dangerous world of butterflies"

· Global Transformers
With National Geographic Explorer In-Residence Wade Davis on The Great War, author and documentary producer Robert Young Pelton on Dangerous Places Revisited, and Sharkwater/Revolution producer Rob Stewart on solutions for an endangered humanity
· Technology
With Elena Polyakova, CEO of Graphene Laboratories (creator of the world¹s hardest substance), Dr. Bradley Edwards on the "space elevator", and Cameron Robertson and Todd Reichert on the human-powered helicopter

· Space
With Moon Express' Co-Founder/CEO Bob Richards and President Andy Aldrin (Buzz Aldrin's son) on the race to send the first privately funded robotic spacecraft to the Moon, Karen Cumming, a finalist in Mars One, the project to establish the first permanent human settlement on Mars, and Tom Wujec, a Fellow at Autodesk, the makers of design software for engineers, filmmakers, and designers
FOR THE FULL IDEACITY SCHEDULE PLEASE VISIT:
http://www.ideacityonline.com/ideacity-2014/schedule/
TWITTER
@ideacitynews
#ideacity2014
FACEBOOK
facebook/ideacityonline
Media Contact/Interview Requests:
Leanne Wright
VP Communications
ZoomerMedia Limited
416.886.6873
[email protected]
www.ideacityonline.com