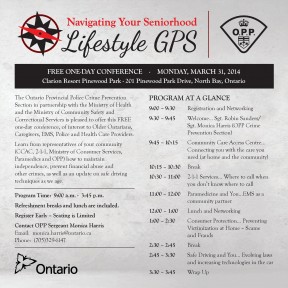 The Ontario Provincial Police Crime Prevention Section in partnership with the Ministry of Health and the Ministry of Community Safety and Correctional Services is pleased to offer this FREE one-day conference, of interest to Older Ontarians, Caregivers, EMS, Police and Health Care Providers.
Learn from representatives of your community (CCAC, 2-1-1, Ministry of Consumer Services, Paramedics and OPP) how to maintain independence, prevent financial abuse and other crimes, as well as an update on safe driving techniques as we age.
For larger view please click on the image.