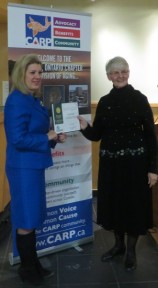 Turning 70 years old is a happy occasion and on January 24th, 2014 over 140 CARP members gathered around Sudbury CARP Chapter Chair, Pat Douglas, to honour her birthday milestone.
To enhance the celebration, Sheetal Pundir, a PHd research student presented her International Toastmasters Convention speech entitled My Simple Discovery of Happiness;an address inspired by her field work in India.
Pundirs message is indeed simple. In order to achieve happiness, we must be grateful for what we have and appreciate the world around us, the food on our tables and the friends and family that surround us.Her message correlates beautifully with Pats 70th Birthday and allows us to ask the question: When we reach a milestone like this, can we safely look back and say we are happy?
If we learned anything from Pundirs talk, it is important to take time out of our daily lives to think about what we have and be grateful for the things we are able to do, and if theres one person we know who has done a lot, its Pat Douglas.
Not only does CARP National wish Pat a happy and healthy 70th Birthday, we hope that when Pat leaves her title as Chapter Chair in spring 2014, she can look back on her experiences with CARP and say, my efforts were rewarding and made me happy."
We are grateful that Pat has dedicated her time to an organization that makes positive change for seniors as they age and it is no wonder why so many CARP members came to celebrate her;Pat has made a tremendous impact both in her community and across Canada.
If you are interested in following in the footsteps of Pat, please contact Elise Kayfetz, Community Development Officer as we are looking for a new board chair (click here to email Elise) or call 1-888-363-2279 ext. 258). Pat promised that she will stay on board as Immediate Past Chair.
Stay happy.