CARP Nova Scotia hosted a public panel discussion attended by 136 CARP members and their guests on:
"What Families Need To Know – A Home for Their Loved One With Dementia."
on Friday, February 07, 2014 at the Keshen Goodman Library in Halifax NS.
The goal of the evening was that CARP Nova Scotia has offered a number of programs on dementia over the past 18 months. We have found that the most difficult question families and friends have to ask is "How do I take care of my loved one with this illness?" The goal of this CARP event was to try to answer this question: What are the programs,
services and housing options open to people with Alzheimer's and other forms of dementia?
It is CARP Nova Scotia's belief that although we would all wish for more services for dementia patients and their families, one of the biggest problems is that they do now know of all the services currently available to them.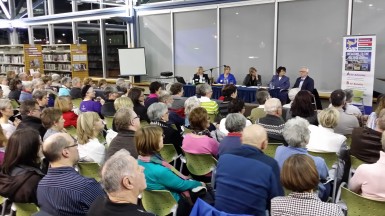 The panel and the table displays gave attendees information on the available services and options.
The Panelists were:
-Dr. Rockwood MD, FRCPC, FRCP, Geriatrician, Professor, and Director of
Geriatric Medicine Research at Dalhousie University;
-Ruby Knowles, Executive Director, Nova Scotia Continuing Care Program;
-Barb Adams, Clinical Clinical Director, PhysioCare At Home;
-Marian Casey, Director of Clinical Services for Shannex
-Robin Carter, Owner/operator, Carter Senior Care.
-Moderator, Bill VanGorder, Volunteer Chair, CARP Nova Scotia Chapter.