Information posted February 4, 2014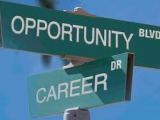 CARPs first job symposium, trade show and volunteer seminars, Work Reimagined event will be held on Monday February 24, 2014 at CHSI (Centre for Health Safety Innovation) 5110 Creekbank Road, Mississauga, ON L4W 0A1. The purpose of the event is to educate and inform professionals with 20+ years of industry experience facing challenges and finding new opportunities in the workforce.
1. The symposium and trade show is packed with information on a variety of topics such as Where are the jobs? and how to get back into the workforce using social media to your advantage and starting your own business, network marketing and a wide range of franchising options. Participants will also be eligible to partake in a speed recruiting exercise and professional resume review. The $69 full day symposium and trade show event will feature seminars with a host of business experts. The event is scheduled from 8:30am to 6:00pm including breakfast, lunch and a cocktail re ception and trade show.
2. Feel Useful… be a volunteer ! Volunteering has a meaningful, positive impact on your community. But did you know that it can have many benefits for you too? Learn or develop a new skill, be part of your community, have a sense of motivation and sense of achievement the list goes on…Come out and learn from a variety of speakers. Its FREE to register if you sign up before Feb 10th.
3. The FREE trade show will showcase over 40+ exhibitors from businesses with jobs, career coaches, recruiters, second careers schools and much more. There will also be an opportunity for attendees to have their resume reviewed by a HR professional. Come out and learn from a variety of speakers. Its FREE to register if you sign up before Feb 10th.
Tickets for the Work Reimagined event are on sale now at www.workreimagined.eventbrite.ca till Feb 23, 2014 for preregistration for both symposium, free job fair and free volunteer seminars. Tickets will be available at the door at non-discounted rates.
Please click these links for more information:
CARP Attendee Information_Feb 2014