Information posted February 2, 2014
For our February Community meetings in Milton and Burlington we invited the Community Care Access Centre of Mississauga/Halton (CCAC) to present "Your Gateway to the Health Care System." We welcomed speaker Bobbi Greenberg to both meetings who gave an in depth presentation on how the health care system works for those who receive this care outside of the hospital environment.
CCAC's main services are to:
Help Patients leave hospital for home
Help patients leave hospital earlier to recover at home
Help residents with high health care needs remain at home
Facilitate all aspects of long-term care process
Help patients die at home, with dignity
Connect residents with family doctor
Help children with health care needs
Provide Information and referral to services in the community services
To see the presentation please click this link: CARP BG Jan 28 This is Bobbi's presentation to the Burlington meeting but is essentially the same as that given at Milton.
Despite the bitterly cold weather we had an excellent turn out for our Burlington meeting with approximately 120 members and friends in attendance. There were much smaller numbers in Milton however those in attendance at both meetings had many questions and prompted a very lively discussion.
We are always pleased to welcome our sponsors to our meetings and this month was no exception. We welcomed:
CCAC: If you feel that you or your family member need health-care support at home, at school or in the community, your local CCAC can open the door to a world of options and opportunities
tlc moving solutions: moving seniors….with heart. We take the stress out of your move and replace it with tlc. tlc provides ALL the services that are needed to make your move stress free. Together we recreate home in smaller retirement style. Consultations are complimentary.
Home Instead Senior Care: "to us its personal." Home Instead are a Chapter partner who offers an affordable solution for seniors requiring non-medical assistance such as companionship, meal preparation, housekeeping, laundry, transportation, errands, and personal care in order to remain in their own homes or retirement homes.
At Burlington we also welcomed:
ListenUP Canada: find out all you need to know about hearing solutions.
Drury Lane Theatrical Productions
We thank all of our sponsors for their generous support and as you will see below many people took the opportunity to visit their displays and to gather more information.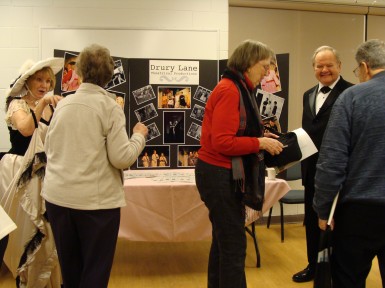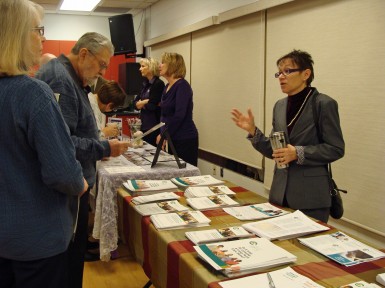 Our meetings conclude with a 50/50 draw plus prizes donated by our sponsors. Photographs of this months winners are shown below