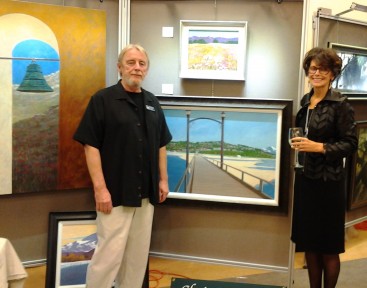 International Artists Day Festival – October 25, 26, 27, 2013
The Events Director of the White Rock/Surrey chapter of CARP, Denice Thompson,  represented the chapter at the International Artists Day festival gala event held at the White Rock Community Centre on Friday, October 25th.
CARP was proud to sponsor two local artists, Chris MacClure and David Patterson. The IAD has been celebrated worldwide since its inception in 2004 by local artist Chris MacClure.
Mr. O Canada, Mark Donnelly, was the Master of Ceremonies with welcoming remarks by White Rock Mayor Wayne Baldwin. Seventeen master artists were in attendance giving various talks and demonstrations over the course of the event.
Seventy six artists from around the province submitted a 12" x 12" canvas with the subject matter of their choice. All submissions were signed on the back so that potential buyers were purchasing the artwork without knowing the name of the artist. Other artwork was also displayed throughout the venue and local musicians were featured throughout the festival days.