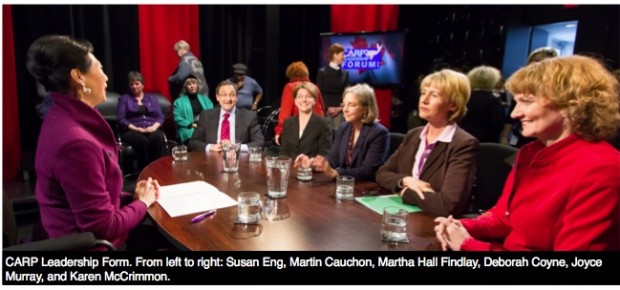 CARP in the Corridors of Media (from the Annual Advocacy Report 2013)
Over the past five years, CARP has gone from having to push ideas considered novel but not critical to the country's well-being to providing a framework for considering some of the defining issues of our time.  Through constant media engagement, CARP has been able to shape the public discourse on our ageing population and meaningful healthcare and pension reform.
Making the status quo uncomfortable for decision-makers is a major instrument of advocacy that aligns well with the interests of the media. So CARP is a go-to source for analysis and comment and increasingly, CARP is the major voice juxtaposed with that of established proponents.
CARP names the issues that others avoid, calls for changes backed up by sound research and the authentic voice of CARP members and follows up over the long haul – a professionalism that journalists appreciate. So we can expect CARP issues to continue to corner the headlines.
Here are the main stories on which CARP engaged the media and raised public and government consciousness in 2013:
Crippling debt among older Canadians whose savings have been devastated by the financial crisis – debt taken on not only for themselves, but also to help their children
Jobs for older workers, caregiver support, long-term care insurance, pharmacare and pension reform
Dogging the steps of governments proposing inadequate responses on pension reform, such as PRPPs
Pointing out inadequate positions and hypocrisies of governments opposing even a modest CPP enhancement
Keeping our issues alive through the "noise" of the Senate scandal and other stories that are distracting from far more important issues, and in between Parliamentary sessions
The abusive attempt by Sudbury police to institute a "snitch line" on older drivers; CARP extracted an apology and ensured that the initiative was stopped in its tracks
Calling out politicians and others on ageist statements; in one case, a politician who said his 60-year-old opponent was too old to run, lost the election
Dispelling the myth that older Canadians want to live to 120, as a majority of Americans polled say they do
CARP has pushed back against the prevailing media attitudes embodied in media catchphrases like "grey tsunami" "greedy geezers" and "bed blockers". Beyond being tiresome, such terminology shapes public attitudes and policies
CARP as Media: Over the past five years, CARP has built a large and effective communications machine to support CARP's advocacy initiatives.  Our bi­weekly newsletter, CARP Action Online, has grown into an online magazine with more than 90,000 opt-in subscribers. This makes it the largest newsletter and regular poll for older Canadians.
We attract a regular response of 2,000-5,000 to our richly detailed poll on current topics and policy issues every two weeks, which means we also regularly test the electoral preferences of this bellwether group.  Our stories are picked up by mainstream media and our polls make the headlines and provoke questions in legislatures across Canada on a regular basis.
Susan Eng, CARP's VP Advocacy is a frequent media commentator and a regular contributor to Zoomer Magazine, a regular guest and panellist on Goldhawk Fights Back, with Dale Goldhawk, TVO's The Agenda, AM740, Classical 96.3 and The Zoomer Report. She also moderates The CARP Debate™, the country's only high­profile debates to be successfully hosted by an advocacy organization and broadcast on national TV.
Since its inception in 2010, the CARP Debate™ has very quickly become a mandatory campaign stop.  Candidates would not forego the chance showcase their knowledge of the issues that matter in a televised debate geared towards the only demographic segment that has a 70% voting rate.
Media is a vital tool that has allowed CARP to disseminate our ideas, reach out to new audiences, and gain the credibility and influence that allows us to generate results in the corridors of power.
DOWNLOAD A FULL PDF COPY OF THE ANNUAL ADVOCACY REPORT (IMAGE QUALITY REDUCED DUE TO FILE SIZE)