Information posted October 21, 2013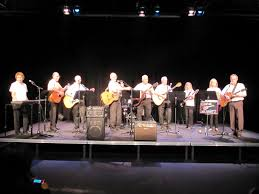 Once again your CARP Halton Chapter volunteers have organised Social Evenings at both Milton and Burlington for your enjoyment as we look forward to the Holiday season.
Please join us at either Milton or Burlington for a fun social evening where we are delighted to feature Oakville's Rock'n'Seniors , the band that plays Rock'n'Roll, Country and Western and Pop  music from the 50's and 60's. There will also be our meeting sponsors who will have interesting information for you, and we will also have several great door prizes.
Our Social evening in Milton will be held on Wednesday November 13th from 6.30pm to 9.00pm at the Milton Seniors Activity Centre, 500 Childs Drive, Milton.
Our Social evening in Burlington will be held on Tuesday November 26th from 6.30pm to 9.00pm at the Burlington Seniors Centre, 2285 New Street, Burlington
We invite you to come and meet your Chapter volunteers and fellow members and their friends. Share in an evening of fun and entertainment. Enjoy the light hearted presentations that will give you interesting ideas for the Holiday Season.
These Social evenings at both locations are for all CARP members and their friends. If you are not able to join us at one location please consider joining us at the other.
There will be a small charge of $5.00 which includes a ticket to win one of the several door prizes. You can also buy extra tickets to improve your chances of winning.
Please also bring a non-perishable food donation to support the Salvation Army's Food Bank.
Doors will open at both locations at 6.30pm. Following a few opening remarks from our Chapter Chair, Tom Carrothers, our entertainment will begin at 7.00pm and end around 9.00pm
Halton Chapter thanks  the following local businesses for their support for our Social evenings. Please click on their names for more information about these companies.
The following are our sponsors at both our Milton and Burlington meetings:
Refreshments will be available throughout the evening at both locations and will be provided by Chartwell Classic Retirement Residence of Oakville.
In addition joining our sponsors at Milton we will welcome:
Milton Orthotic and Wellness Centre
And joining us at Burlington we will also welcome
Holland Park Garden Gallery who will be demonstrating how to create interesting Christmas decorations from readily available materials.
Our sponsors will have display tables and we encourage you to visit them and obtain additional information about the products and services they have to offer.
Following the prize draw our evening will end around 9.00pm with a few closing remarks from Tom.
Please support your local chapter. Everyone is welcome. Members please bring a friend. We are looking forward to meeting everyone.